****************************************
THE HORROR OF PARTY BEACH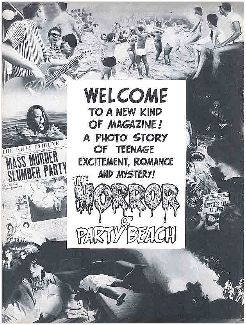 RARE ORIGINAL WARREN PUBLICATION !
From 1964 comes a new kind of Famous Monsters magazine. A photo story of the first Rock'n'Roll Horror Musical - The Horror Of Party Beach. Out of the sea they came... transforming a carefree, twisting and frolic-filled teenage beach party into a nightmare! These radioactive monsters go after the girls, while the local motorcycle gang goes after the beach boys. All the while, the band plays on, singing The Zombie Stomp and others. The actual scenes from the film are used to create the story with word balloons just like in the comics.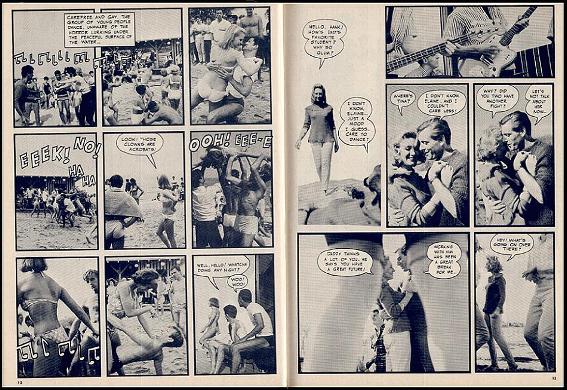 The actors consist of John Scott; Alice Lyon; the real-life Stamford, CT motorcycle gang; plus the always sharp Del-Aires rock band! The film story adaptation and art direction was done by famed Mad Magazine staffer Wallace Wood, who also appears as a newsman in one of the photos. This mag also features parts of the movie that haven't been seen in years, including the infamous and very gory, "Mass Murder Slumber Party" scene that was cut from TV prints and isn't on most video copies! This way cool photo-zine was originally available only at participating theaters showing the film. Overall condition is near MINT!
---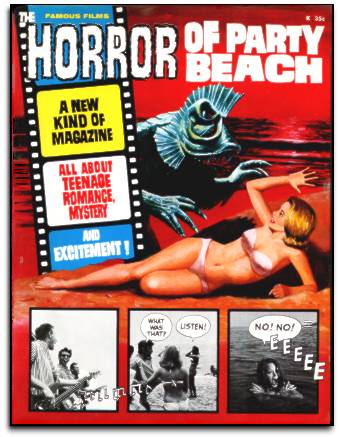 HOME PAGE | ORDERING | CLOSE WINDOW