****************************************
GEORGE HARRISON - RAVI SHANKAR
1974 Dark Horse Tour Program Booklet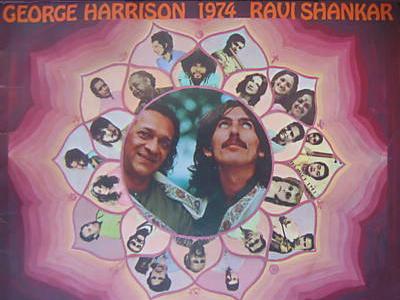 This guide is from the 1974 tour they did together. It was a time when George Harrison was reaching out and found Jai Sri Krishna. Harrison wrote and sang about spirituality and transcendence. He immersed himself in Indian music at Beatlemania's height and became a lifelong devotee of Hindu religion, Krishna consciousness and Vedic philosophy.
George was the first Beatle to tour the US as a solo artist and the only one to start his own label, Dark Horse Records. The tour was designed to help launch the label, and promote the release of George's new album "Dark Horse". This is a program booklet from that US tour - a tour that did not go so well, and was to be Harrison's only tour as a solo artist. Not well attended, the tour books are hard to find today. Proceeds from the sale of this tour booklet went to benefit the Appalachian Regional Hospitals Inc. The following George Harrison songs are listed with lyrics: "It Is He"; "So Sad"; "Simply Shady"; "Ding Dong"; "Dark Horse"; and "Far East Man". Artist biographies in the program are as follows: Billy Preston, keyboards; Jim Horn, saxophone; Tom Scott (insert), saxophone; Chuck Findley, trumpet; Robben Ford, guitar; Andy Newmark, drums; Emil Richards, percussion; and Willie Weeks, bass guitar. There is a short bio on Ravi Shankar and a whole section on "Indian Music - An Insight" by Ravi Shankar. A informative description of Indian Music instruments with glossary, and artist biographies on the Indian Musicians: Hariprasad Chaurasia, flute; Rijram Desad, percussion & strings; T.V. Gopalkrishnan, mridangam & vocal; Gopal Krishan, vichitra veena; Sultan Khan, sarangi; Kartick Kumar, sitar; Kamalesh Maitra, percussion; Satyadev Pawar, North India violin; Alla Rakha, tabla; Harihar Rao, percussion; Lakshmi Shankar, vocal; Viji Shankar, vocal; Shivkumar Sharma, santoor; L. Subramaniam, violin. Profusely illustrated & with a wealth of photos, the program book design is by Jan Steward. Printed by the Artisan Press, Los Angeles, California.
The 24-page booklet measures 11.5" x 9" and appears overall Excellent!
---