****************************************
HONEY WEST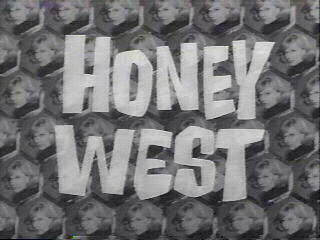 "Honey West" was the first crime-drama network TV series in the US with a stylish female star in an action-adventure role traditionally played by a male actor. In addition to being television's first modern, independent, self-sufficient woman, Honey frequently engaged in energetic fight scenes & shoot-outs. Since the bigger budgeted "The Avengers" series had not yet aired in America, it was unprecedented to see a beautiful, curvaceous woman in a black catsuit beating up male attackers with a high-kick, judo-flip, or well-placed karate chop. She is also the first character, male or female, on US television to use judo & martial arts as self-defense. In its short run, "Honey West" helped pave the way for other female spy / detective shows such as "The Girl From U.N.C.L.E."
This innovative series showcased the groovy jazz music score & theme song by Joseph Mullendor, making it one of the coolest, hippest detective shows of the era, centering around a great foxy sleuth, the likes of which had never been seen on network television before. Honey could single-handedly out maneuver a bad guy & take him down with a well placed karate chop, or have a shoot-out in a nerves-of-steel showdown that would have other detective series stars running for cover.
"Honey West" is a Four Star Production produced by Aaron Spelling, who saw an episode of "The Avengers" in the UK, titled "Death Of A Great Dane", starring Patrick MacNee & Honor Blackman. Soon thereafter, a 1964 episode of his current series, "Burke's Law" titled "Who Killed the Richest Man In The World?" aired with a similar plot-line. Spelling was so impressed with Honor Blackman that he offered her the starring role in a private-eye series under development called 'Honey West'. But she opted to do "Goldfinger" instead. Spelling didn't give up the idea of the series, and searched for an actress who most reminded him of Blackman. Anne Francis was chosen to become the sexy, cool & liberated Honey West, and first appeared as Honey in the 1965 "Burke's Law" episode titled "Who Killed The Jackpot?" Ann Francis' film credits include "Forbidden Planet" & "Black Board Jungle". One of her more memorable TV roles is that of a mannequin in the classic "Twilight Zone" episode "The After Hours".
Honey's own series began on ABC-TV in September 1965, but lasted only one season as it was on opposite the huge hit "Gomer Pyle". The premise is that after the death of her father, Honey West took over his high-tech private investigation firm. Her assistant is the rugged Sam Bolt (John Ericson), who had worked at the agency for her father, Hank West. This groundbreaking turned cult-hit crime-drama series was shot in black & white, and featured interesting 30-minute story lines, martial arts, good guest stars, great clothes including her 'Jackie O' sunglasses, her super cool 1965 Shelby 289 Cobra sports car, hip apartment, clever banter, and a very unique camera & editing style. Honey's Aunt Meg is played by Irene Hervey, the real-life mother of singer Jack Jones. Honey's irascible & aptly named pet ocelot is Bruce Biteabit. With a cat like that around the house, no wonder Honey & her partner Sam always had a mixed drink ready...
Honey used an arsenal of tools and gadgets to monitor or subdue her suspects, including an exploding compact, a garter belt gas mask, teargas earrings, a lipstick microphone, and martini olive radio transmitters. Honey also kept a cache of weapons in her secret office that was hidden behind her apartment living room wall. She kept a .38 revolver in her purse and a backup Derringer stashed somewhere on her "oh so shapely" 36-24-34 feminine frame. Honey & Sam do surveillance from an Econoline van, outfitted with a periscope, listening equipment, and monitors to watch from remote cameras. The Special Effects for "Honey West" are by Jim Rugg, who just a year later did Special Effects for the "Star Trek" TV series. Aaron Spelling later created the "Charlie's Angels" series in 1976. Similarities between the two series cannot be ignored, as both are sprinkled with the proper amount of camp elements.
EPISODES
(1) The Swingin' Mrs. Jones- Honey goes undercover at a fancy singles resort & poses as a society matron in an effort to smash a blackmailing ring that preys on wealthy women. Bikini clad Lori Williams of the Russ Meyer movie "Faster Pussycat Kill, Kill" appears in a bit part. (9/17/1965)
(2) The Owl & The Eye- In order to test a museum's security system, an insurance company hires Honey to steal a jade carving that they have insured. (9/24/1965)
(3) The Abominable Snowman- After agreeing to deliver a salesman's sample case, Honey becomes marked for death. Her client is killed in a car crash with only a snow globe and the word "Snowman" as the only clues. This episode marks the first appearance of Honey's car phone (and Honey taking a bubble bath). (10/1/1965)
(4) A Matter Of Wife & Death- Someone tries to sink a ship carrying Honey and the woman who hired her after receiving anonymous death threats. Who is the killer dressed in a frogman diving suit? Watch for Honey's brief cat-fight sequence. (10/8/1965)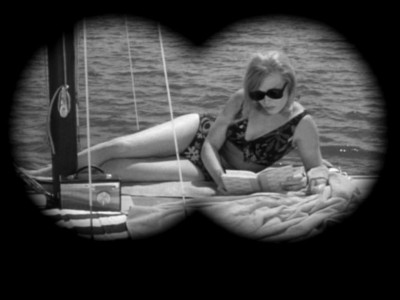 (5) Live A Little, Kill A Little- Honey tries to save the former girlfriend of a mob leader. Guest star Warren Stevens (Doc Ostrow in Forbidden Planet). (10/15/1965)
(6) Whatever Lola Wants....- Honey's been hired to attend a charity ball with Ramon Vargas, and Ramon is dressed to kill. In fact, he has just committed murder. This episode features a gas pen gadget. (10/22/1965)
(7) The Princess & The Paupers- Honey is called in when the lead singer of a Beatlesesque music band known as The Paupers is kidnapped. At first it's thought to be a publicity stunt, but soon turns into a murder mystery. With guest stars Richard Crane, Michael J. Pollard & Bobby Sherman. Bikini clad Lori Williams of the Russ Meyer movie "Faster Pussycat Kill, Kill" appears in a bit part, and Honey also looks great in her black bikini. (10/29/1965)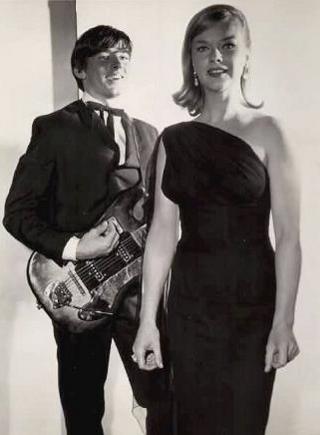 (8) In The Bag- A precocious young girl whom Honey was escorting between her divorced parents gets lost at the airport. This episode features a homing beacon pen gadget. Guest stars Maureen McCormick (TVs Marcia Brady from The Brady Bunch), and Everett Sloane, in one of his final appearances. (11/5/1965)
(9) The Flame & The Pussycat- Honey & Sam must catch a warehouse arsonist in order to secure a contract with an insurance company. (11/12/1965)
(10) A Neat Little Package- Honey investigates a car accident that leaves the victim with amnesia... and a mysterious $175,000. This episode features a camera watch gadget. (11/19/1965)
(11) A Stitch In Crime- Honey & Sam are taking a designer set of gowns worth $100,000 to a fashion show in San Francisco when their van containing the collection is stolen. There are very few clues available for Honey & Sam to track down the thieves and recover the gowns. Has a great scene with Honey & Sam dressed as beatniks. (11/26/1965)
(12) A Million Bucks In Anybody's Language- Honey investigates the death of a fellow Private Investigator whose car exploded shortly after he called Honey for help, and she uncovers a plan to print fake British pounds. This episode Includes a great 'Emma Peel' inspired fight sequence, and Honey in a sexy tiger skinned outfit. (12/3/1965)
(13) The Gray Lady- While actress Nicole Bridou is being interviewed on TV, jewel thief John Abbott watches from her hotel room, where he's pulling a heist. NOTE: This was the actual pilot for the series, and has a different opening sequence and music. Written by William Link & Richard Levinson, the writing team that later created the "Columbo" TV series. This episode utilizes a special television monitoring gadget, as well as a memorable Honey fight sequence. Guest stars Bert Parks, and Kevin McCarthy (Invasion of the Body Snatchers, UHF). (12/10/1965)
(14) Invitation To Limbo- An electronics firm hires Honey to find out how secret company information has been leaking out. Written by William Link & Richard Levinson, the writing team that later created the "Columbo" TV series. Guest star Wayne Rogers (TV's Trapper John on M*A*S*H) (12/17/1965)
(15) Rockabye The Hard Way- Honey and Sam travel to Mexico to investigate the hijacking of a truck whose cargo of missile parts was stolen. Joe Don Baker (CIA agent Jack Wade in GoldenEye, later to Fletch series) in his first credited but small supporting role. (/24/1965)
(16) A Nice Little Till To Tap- Honey is unaware that the suave man she is dating is a master thief hoping to get inside information for pulling off a bank robbery. (12/31/1965)
(17) How Brillig, O, Beamish Boy- Sam is kidnapped, and a man wants to work out an exchange with Honey for a parcel she has been hired to guard. This episode features an exploding pen gadget. Directed by Ida Lupino. Guest stars John McGiver (the friendly Tiffany's salesman in Breakfast at Tiffany's), and Monte Hale, the last of the singing cowboys, who made so few TV appearances that this might be his ONLY one. (1/7/1966)
(18) King Of The Mountain- Honey goes undercover as a nurse on the secluded estate of a missing company president she's been hired to find. A different type of camera-watch is used in this episode. (1/14/1966)
(19) It's Earlier Than You Think- A mortally wounded man carrying an 1865 newspaper wanders into Honey's flat and with his dying breath tells her to warn President Lincoln of an assassination plot. A hidden compartment ring gadget is featured in this episode. (1/21/1966)
(20) The Perfect Un-Crime- An embezzler who has had second thoughts hires Honey & Sam to return the money he had stolen to the company vault before his employer discovers it is missing. (1/28/1966)
(21) Like Visions & Omens & All That Jazz- A psychic accurately predicts several murder attempts on an heiress. Guest star Mimsy Farmer (Hot Rods To Hell; Riot On Sunset Strip). (2/4/1966)
(22) Don't Look Now, But Isn't That Me- Honey West pursues a ring of thieves, one of whom disguises herself as Honey West. Anne Francis is a hoot in the dual role of Pandora Fox. A bolo belt gadget is used in this episode. Guest star is Alan Reed, the cartoon voice of Fred Flintstone! (2/11/1966)
(23) Come to Me, My Litigation Baby- An insurance company hires Honey to validate a cowboy's claim that he was paralyzed by falling down a flight of stairs. The fight sequence in this episode has a style similar to Cathy Gale in The Avengers' "Mandrake" episode. Guest star Ellen Corby (Grandma Esther of The Waltons). This episode features the humorous "Honey West Walk" dance routine. (2/18/1966)
(24) Slay, Gypsy, Slay- Honey & Sam investigate a kidnapping, and the trail leads straight to a gypsy camp. John Ericson is hilarious in one scene disguised as an elderly man. There's also an amusing fight sequence with a gorilla. (2/25/1966)
(25) The Fun-Fun Killer- Honey and Sam investigate the murder of a toy manufacturer, and come up with three suspects, one of which is a metallic robot. Trivia: The same robot showed up later the same year in the Gilligan's Island episode, "Gilligan's Living Doll". (3/4/1966)
(26) Pop Goes The Easel- When two men steal a can of soup from Aunt Peg at the supermarket, Honey & Sam get involved with a famous pop artist. (3/11/1966)
(27) Little Green Robin Hood- Honey and Sam go after a modern day "Robin Hood" who is working the ritzy Sherwood Park area of town. This episode features a homing beacon ring gadget. Guest stars are Ed "Kookie" Byrnes (as Robin Hood); Eleanor Audley (the voice of Maleficent in Walt Disney's Sleeping Beauty); & Severn Darden of Second City fame. (3/18/1966)
(28) Just The Bear Facts Ma'am- When a stuntwoman is killed during a routine stunt, Honey & Sam are called in to discover if the death was really accidental. The episode features an amusing Silent Movie dream sequence. (3/25/1966)
(29) There's A Long, Long, Fuse A'Burning- Honey tries to help a recently released convict who is being framed. With guest star Dick Clark. (4/1/1966)
(30) An Eerie, Airy, Thing- A distraught man threatens to commit suicide unless his wife is brought to him. What he doesn't know is that she is dead. Written by William Link & Richard Levinson, the writing team that later created the "Columbo" TV series (4/8/1966)
---