****************************************
MR. LUCKY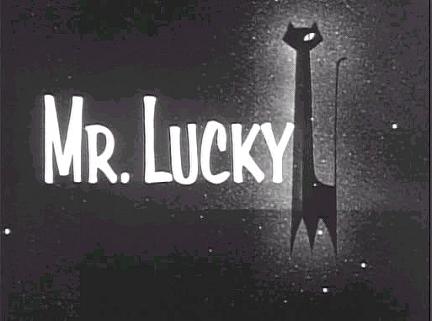 Produced by Spartan Productions & filmed at Metro-Goldwyn-Mayer Studios in Culver City, California, this seldom seen cult TV favorite ran for just one season on CBS-TV from 1959-1960. Spartan Productions also produced the "Peter Gunn" series for CBS (1958-1961) starring Craig Stevens. Both series were created by famed writer/director Blake Edwards ("Pink Panther"), with "Mr. Lucky" being loosely based on the 1943 film of the same name starring Cary Grant & Laraine Day. That film was based on an original story "Bundles For Freedom" by Milton Holmes. Blake Edwards developed "Mr. Lucky" as a retooling of his Willie Dante character from "Four Star Playhouse", where the role was played by studio boss Dick Powell. Edwards directed and co-wrote the first episode of "Mr. Lucky", and the credits of the first eighteen episodes indicate "Entire production supervised by Blake Edwards". Jack Arnold (director of "Creature From The Black Lagoon", "The Incredible Shrinking Man", & "It Came From Outer Space") produced the show & directed fifteen of the thirty-four episodes.
This lesser-known companion series to "Peter Gunn" ran for 34 episodes & was filmed in black & white as a 30 minute crime-adventure-drama series starring the handsome John Vivyan as Mr. Lucky, a suave but honest professional gambler with extraordinary luck. He operates a plush floating yacht, the "Fortuna II", named for the Roman goddess of luck. The ship is an elegant supper & gambling club that attracts the jet set of the world. Mr. Lucky is drawn into both the glamour & danger of high society... beautiful women, ruthless criminals, deadly secrets. The Fortuna II is anchored several miles off the coast of California, in international waters just outside the legal limit, so Mr. Lucky is able to host his glittering clientele in a legal gambling environment. By episode 16, Mr. Lucky had changed his business from a floating casino to a floating restaurant. This was done by order of the show's sponsor, Lever Brothers who decided that soap & gambling don't mix. As the sponsor of two hit shows, "Mr. Lucky" & "Dennis The Menace", the powers-that-be sent down orders that the celebrated television character would henceforth have to be more 'respectable'. The writers quickly had Mr. Lucky running a restaurant instead of gambling aboard his ship.
Helping him run the operation is his good friend Andamo, played by Ross Martin, best known as Artemus Gordon, inventor & master of disguise on "The Wild Wild West". The character of Andamo is spun off from producer Blake Edwards' NBC series, "Peter Gunn". Pippa Scott has a recurring role as Maggie Shank-Rutherford, Mr. Lucky's beautiful girlfriend. Tom Brown also has a recurring role, as Lieutenant Rovacs of the city police. Tom Brown is also known as the "Buster Brown Shoes" boy. Joe Scott plays the Croupier / Maitre D'. Guest appearances by television and film stars highlight each episode.
Much of the show's atmosphere is provided by Henry Mancini's theme and incidental crime-jazz music, which produced two full albums, "The Music From Mr. Lucky" and "Mr. Lucky Goes Latin". Henry Mancini's theme song for the show reached Number 21 in the US singles charts. Mr. Lucky's pocket watch, when opened, plays the first five notes of the theme, corresponding to the words "They call him Luck-y". Edwards helped revive the concept in 1980 as a TV-movie pilot called "Casino", starring Mike Connors, best known as the star of "Mannix".
SELECTED EPISODES
(1) The Magnificent Bribe - The first episode of the series begins with Mr. Lucky & Andamo running a successful casino in Andamo's homeland, the South American island nation of Chobolobo (the name is not mentioned until the second episode). To stay in business, they must pay a weekly bribe of $1000 to the country's corrupt president (Nehemiah Persoff). Unknown to Lucky, Andamo decides to aid an anti government revolutionary group & uses Lucky's yacht, The Fortuna, to smuggle guns to the revolutionaries. El Presidente learns of the smuggling plot as a beautiful female assassin (Ziva Rodann) gets into position to kill him. Mr. Lucky & Andamo quickly abandon their casino & escape in a small boat with nothing but the clothes on their backs. With Francis McDonald, Ruben Moreno, & Alusio Ferreira as a guitar player (10/24/1959)
(4) The Money Game (aka The Professor, aka For Love Or Money) - With their original yacht now replaced by The Fortuna II, business is booming in the legal international waters outside of their American port city of Los Angeles. New faces at the roulette wheel include a beautiful, wealthy divorcée (Barbara Bain) & a studious, eccentric professor (J. Pat O'Malley). Are they somehow involved with a recent rash of counterfeit money entering the Port of Los Angeles? Mr. Lucky is on the lookout for the phony bills. With Troy Melton & Donald Losby. (11/14/1959)
(5) That Stands For Pool (aka The Pool Game) - Gambler Nick Papadopoulous (Stanley Adams) challenges Mr. Lucky to a game of billiards at very high stakes, and brings two thugs along to make sure he wins. Lucky is resigned to losing, but several other gamblers have placed their bets on him. Mr. Lucky & Andamo find that the game involves more than money... it also involves their life or death. With Jay Adler & Paul Lambert. Directed by Jack Arnold. (11/21/1959)
(17) The Last Laugh - (aka The Comic, aka Intrigue) The new comedian (Frank Gorshin) at Lucky's nightclub restaurant is still wanted by his previous boss, an old-time Prohibition Era mobster, who is pressuring the comedian to quit his job on the Fortuna II. Mr. Lucky rescues the comedian from a beating and warns the hoodlum to lay off, but eventually the comic's wife (Sally Fraser) & Lucky's girlfriend Maggie are kidnapped as part of a scheme to make the comic return and sign a contract. With Brad Dexter. Directed by Jack Arnold. (2/13/1960)
(21) Big Squeeze (aka Lucky Frame) - An old friend of Mr. Lucky is planning a major heist and asks for help with the getaway by using the Fortuna II to leave for Cuba afterward. Lucky turns him down, but after getting framed for the crime he decides to track down the thieves, with Lt. Rovacs hot on his heels. With Richard Bakalyan, Jack Elam; Kevin Hagen, Percy Helton, Kathy Marlowe, Irene Tedrow, Frankie Darro. Directed by Jack Arnold. (3/12/1960)
(25) Hair Of The Dog - A front man for the Mob wants to buy the Fortuna II for a ridiculous price and will not take "NO" for an answer. Staged fights in the Dining Room, use of an attack dog and a quarantine for a virus are some of the tactics used to force the sale. Lucky & Andamo will not be intimidated, and with Rovacs' help, they fight back. With Geneviève Aumont, Joe Bassett, Peter Whitney, Gavin MacLeod. (4/9/1960)
(30) Operation Fortuna (aka The Bungling Waiter, aka Anniversary Party) - Armed juvenile delinquents rob the Fortuna II's Cash Room, and the Dining Room customers. Their efficient heist even included knocking out the Ship-to-Shore radio. Mr. Lucky & Andamo suspect an awkward young waiter may be involved. With Jack Nicholson, Richard Chamberlain, Jolene Brand, Anne Helm, Buzz Martin. Directed by Jack Arnold (5/21/1960)
(31) Stacked Deck (aka Blonde Stowaway) - A modern day Jack-the-Ripper is loose in the Port of Los Angeles, murdering rich young blondes. Unknown to Mr. Lucky & Andamo, a runaway heiress stows away on board the Fortuna II as she is being followed. With Fay McKenzie, Yvette Mimieux, Grant Williams. Directed by Jack Arnold. (5/28/1960)
(33) Dangerous Lady (aka Honeybird) - Mr. Lucky is approached by a woman who needs a large sum of money very quickly. With Jackie Coogan, Ollie O'Toole, Lee Van Cleef, Virginia Vincent, Bambi Hamilton. Directed by Jack Arnold. (6/11/1960)
(34) Election Bet (aka Hit On Lucky) - After losing a large bet on the outcome of a South American election, a man tries to kill Mr. Lucky to avoid paying the debt. With Joi Lansing, Vito Scotti, King Calder, Leo Gordon, Mel Welles, G. Stanley Jones. Last show of the series. (6/18/1960)
---