****************************************
A WHOLE SCENE GOING
January 5, 1966 Debut episode of British TV culture magazine show on teen trends, hosted by Wendy Varnels & Barry Fantoni. The order of sequence for the B&W show (along with compiled running times) is:
Title & opening montage sequence. Panning shot of studio audience and guests. (1.13). In studio, Barry Fantoni introduces himself & Wendy Varnals. Wendy shows a large composite photograph, mounted on cardboard, of what women will be wearing in the coming year (bell bottom trousers, skimpy tops and the Jean Shrimpton look of pale foundation, heavy eye make-up, long straight hair tied in a bow). The face on the photograph belongs to Caroline Munro (aged 16) who won "The Face of 1966" competition sponsored by 'The Evening News'. Shot of Caroline in audience (2.33).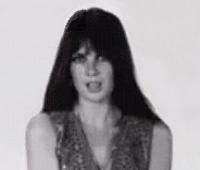 Caroline Munro was later to become known to millions of film fans around the world as an idol of fantasy cinema. After appearing in several Hammer Horror classics, she eventually got a role in the movie "Dracula AD 1972" as Laura, the bohemian girl, and her cult status in that genre was heightened further in "Captain Kronos, Vampire Hunter", as Carla, the free spirit gypsy girl who knew no fear. Caroline Munro also played as one of the most deadliest & beautiful enemies James Bond ever had to face, Naomi, in "The Spy Who Loved Me". Her appearance on this show however, marks her debut to British audiences.
Next, Barry Fantoni & Wendy Varnels introduce the skateboard which is now hugely popular in America. Short film plays of young people skateboarding & performing cool tricks. Background music is The Beach Boys singing `Don't Worry Baby'. Barry Fantoni skateboards across studio (3.58).
Next Barry introduces The Who, and they perform "Out In The Street". Shots of audience and Wendy as they sing along (6.15). Wendy introduces the panel of guests who will answer viewer's letters: Spike Milligan, Lulu and Frankie McGowan (editor of 'Honey' magazine). Mailed-in letters shown on screen & Wendy reads them. The first is from a 16-year-old girl whose parents won't let her be alone in the sitting room with her boyfriend; the second is from a Jewish girl wanting to marry a Catholic boy (Lulu feels that if everyone were of the same religion there wouldn't be such problems). The final one is from a young man who feels only women write to problem pages because they are more neurotic than men. Spike Milligan disagrees feeling women are more mature and refers to a newspaper article in The Times (12.51).
Barry Fantoni next asks if the group scene is dying, and announces the program will talk to owners of three northern clubs where the movement began. The filmed report shows young people dancing in 'The Cavern Club', in Liverpool. Ray McFall, owner of The Cavern Club, comments that 1966 will see more groups, more solo artists and more mature artists (14.04). Meanwhile, at "The Blue Angel Club", also in Liverpool, Allan Williams (The Beatles 1st manager) feels that the standard of musicianship will have to improve and that more jazz sounds will be introduced (14.29). Paddy McKearnon, at "Mister Smiths Club" in Manchester, believes the market is saturated and the Merseysound died in 1965 (15.38). Cut back to studio where Barry introduces Pete Townshend of The Who. There's footage of The Who playing at "The Witch Doctor Club" in Hastings. Pete Townshend's comments are spoken over shots in the club (including The Who on stage, and Pete in a room with hi-fi equipment playing records). Pete talks about the aggression in their music & the guitar smashing episodes, while taking a broken guitar from its case. He believes their clothes are another attraction for female fans. The camera pans the flags & badges of John Entwhistle's jacket and Keith Moon wearing pop art tee-shirt. Pete also talks of the influence of his father on his music and career, and states that the group doesn't get on well off-stage. He feels his sole motivation is the hatred of all current popular music; the audience is "thick" and doesn't appreciate quality, although he admits there is little quality in their music which is all musical sensationalism. The background music by The Who in scenes with Pete Townshend are "Heatwave", "Anyway Anyhow Anywhere" and "It's a Legal Matter". Finally, there's brief footage of The Who on stage performing "My Generation" as the show cuts back to studio (20.46).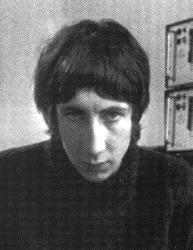 A panel of young people in the audience asks Pete Townshend questions. They are: Carol Bonstead, Tristan Allsop, Laura Ferguson, Sarah Christy, Vic Horner & Mike Cook. Pete is asked how much he earns, but he doesn't answer. He admits to drug taking but is sensitive to the fact that drugs must not influence his stage act, stating "the best way to play is sober". He feels The Who is an unglamorous group that has no musical quality. He comments unfavorably on The Beatles "if you hear the backing track of the Beatles without their voices, they're lousy" (25.42). The Who then perform "It's Not True" in the studio (26.30), and continue the song over the closing credits (27.39).
---