****************************************
FROLIC DINER Vol 5- Various Artists

SWINGING EXOTICA FROM THE 1950s & 1960s
This is original authentic strip tease bump & grind music by the artists who perfected it. Get ready to party it up with: Lord Rockinghams- FRIED ONIONS; Jimmy Beck- FIESTA; Byron Gosh Group- DISGUSTING; Walkin' Charlie Aldrich & The Way Outers- HOT SAKE; Chuck Hix & The Count Downs- COOKIE DUSTER; Louisiana Red- SUGAR HIPS; Noble Watts & His Rhythm Sparks- FLAP JACK; Chaino- UBANGI ROCK; IM Joe- OUCH; Night Owls- STOMPIN; Joe Thomas- ROCATELLA; The Blue Jeans- MOON MIST; Dick Caruso- ROCKIN' WITH RICHARD; Doc Starks And The Night Riders- VACATION TRAIN; Eden Rocker- WASTED; The Chumps- TIPSY #3. This tasty 16 Song LP will feed and nourish a lounge-full of hungry cads out on the prowl. Issued without shrinkwrap, this copy is in beautiful unplayed pristine MINT condition!
---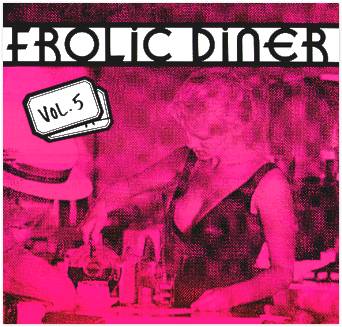 Please note: The 'spotty' look to the cover is a scan thing.
The actual cover appears much clearer.