****************************************
THE GOLDTONES
Live! At The Teenbeat Club In Las Vegas!

Here's a rare one for you - a LIVE record from 1965, that is the band that Randy Seol led in the years before he joined the Strawberry Alarm Clock. This album has the Goldtones, recorded live at the Teen Beat Club in Las Vegas. Without the aid of the usual standard props such as long unkempt hair, the unwashed look and high heel boots with skin tight pants, they have managed to create a following that portends to insure the fulfillment of their ultimate goal... stardom! The group consists of Wayne Purvis on piano, Ken Naylor on bass, Al Doss trumpet, Mike Peters and Steve Green on guitar, Cindy Mac vocalist, and features Randy Seol on drums. They formed their group in 1961 at which time they won their first award; first place in one of California's most important musical festivals, The Starcapades. They have been in constant demand since the days they all attended Ramona High School in Riverside, California. This is the band's only release on album and has them singing many of the hit songs of the day with their versions of "Gloria", the Bessie Banks / Moody Blues tune "Go Now", and some R&B items like "Walking The Dog" and "I Just Want To Make Love To You". Who would think that the Randy Seol of the 1965 Goldtones would emerge just a three years later as the Nehru jacketed lead singer of the hit song "Incense & Peppermints".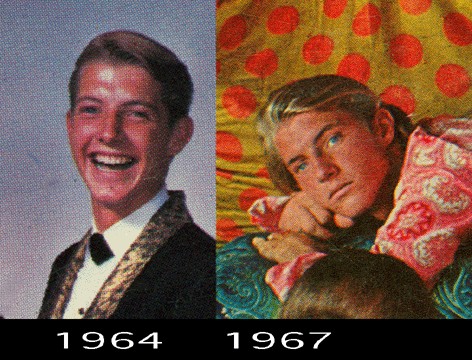 After Randy left the Goldtones and moved to Los Angeles, the group splintered. The next three members to leave were Wayne Purvis, Ken Naylor & Steve Green. They were soon replaced by Stephen Anderson, Jon Rooff & Dave Kellstrand. Mike Peters stayed, and the new line-up became The Shades Of Time. Nehru Jackets rule the day...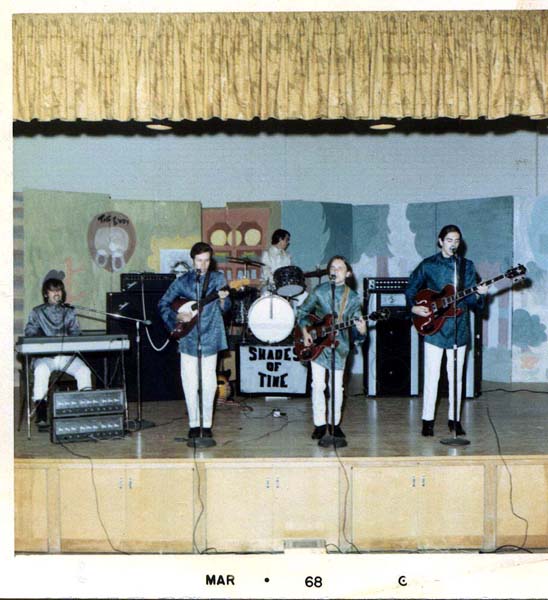 The Shades Of Time: L-R Steve Anderson (organ); Mike Peters (guitar); Hal Davis (drums); Dave Kellstrand (vocals/guitar); Jon Rooff (bass)

The Goldtones LP, rare in its own time, is one of the more sought after recordings by Strawberry Alarm Clock & Shades Of Time completists. Track Listing: Wooly Bully; Downtown; Gloria; Go Now; Koko Joe; Walkin' The Dog; The Clapping Song; Midnight In Vegas; I Want To Make Love To You; My Girl Sloopy; High Heel Sneakers; I'll Love Her. This is a seldom seen ORIGINAL PRESSING on LaBrea Records (8011), manufactured by Apex. Right now I have it in Stereo in beautiful Excellent condition, or Mono in Very Good condition. Each jacket appears overall near Excellent. Be the first to get the copy of your choice.
---