****************************************
LOST AND FOUND
Everybody's Here

The Lost and Found came out of Houston, and originally called themselves the Misfits. Members were Peter Black guitar and vocals (pre-Endle St,. Cloud) , Jimmy Frost lead guitar and James Harrell on bass. John Kearney of the Spades played with them for a short while after the Spades had split up in 1965, and they went through a succession of drummers, first Norman Blythe, then Mickey Bishop, and finally Steve Webb (pre-Potter St. Cloud and Euphoria).
The Misfits played shows at Love Street and La Maison, where, according to Jimmy Frost, they met the 13th Floor Elevators for the first time. The Elevators would have a huge influence on their sound, and their friendship with Roky Erickson and Stacy Sutherland would eventually lead to an introduction to the International Artists label.
At the start of a six month residency at Scott Holtzman's Living Eye Teen-Club in Houston, they became the first Texas group busted for LSD. Jimmy Frost remembers Peter, James and Mickey facing charges, and that one of the reasons the band signed with International Artists was because its owners, Bill Dillard and Noble Ginther, were lawyers who could help them with the bust.
Supposedly the charges were dismissed because the drug was not yet illegal! However, the notoriety of the bust led to the name change to the Lost and Found, appropriate in any case for the increasingly psychedelic direction of their music.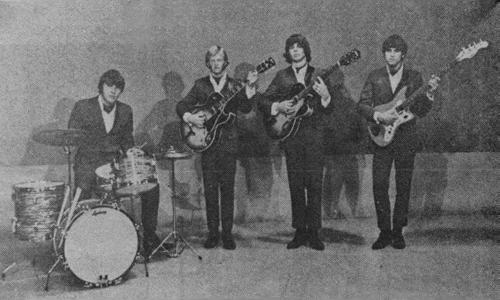 The Misfits - circa 1966
This, their sole LP, originally released in 1968 on International Artists Records (IA #3), The Lost & Found pay homage to their sponsors,The 13th Floor Elevators with a great cover version of 'Don't Fall Down', written by Roky Erickson & Tommy Hall, which first appeared on the Elevators' debut LP, 'The Psychedelic Sounds Of The 13th Floor Elevators'. The Lost & Found LP was released just prior to their 30 day tour with the Music Machine, and features great fuzz guitars and a healthy dose of psychedelic weirdness.
Further evidence of the Elevators' influence can be heard on their original song "Let Me Be" which imitates the famous Elevators' jug sound. The album also includes a couple of instrumentals of note; "Zig Zag Blues" dedicated to the founder of Zig Zag Magazine and "Living Eyes" dedicated to Houston's Living Eye Teen Club. Their second LP never emerged because the band went broke & disintegrated after their 30 day Texas tour with The Music Machine.
Selections are:
1. Forever Lasting Plastic Words
2. Everybody's Here
3. There Would Be No Doubt
4. Don't Fall Down
5. Zig Zag Blues
6. Let Me Be
7. Realize
8. Stroke Blues
9. I'm So Hip To Pain
10. Living Eyes
Originals of this LP sell in the $200+ range, but this affordable 1999 reissue from Get Back Records of Italy, pressed on 180 gram High Quality Virgin Vinyl, is available here in beautiful MINT condition!
---