****************************************
SMOKESTACK LIGHTNIN'
Off The Wall

Smokestack Lightnin' had THE sound... One of the truly unsung groups of the '60's Sunset Strip era, Smokestack Lightnin' was something of a house band at the Whiskey A-Go-Go, as well as at the Cheetah Club. They recorded several strong singles, worked with Bones Howe, recorded this LP and made a film appearance. However, they are rarely mentioned along with the Doors, Seeds, Love, or Byrds when the top bands of the Strip are listed. Group members are: Ric Eiserling (guitar); Kelly Green (bass); Ronnie Darling (percussion, vocals); Art Guy (drums).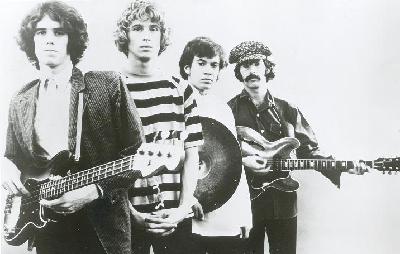 As Smokestack Lightnin' drummer Art Guy reflects: "The '60's in LA and in particular on the Sunset Strip was pure and simply magic. We had just moved from the traditional boy & girl thing with Saturday night dates, school and sports being the most important things in the world. We were at war in Vietnam and the younger generation began to question anything and everything our parents and peers stood for and promoted. This movement didn't happen overnight. It was a gradual trend, fueled in many places around the country. Our neck of the woods with the tremendous musical talent started to fuel the fires of change that spread coast to coast over the next few years. The Sunset Strip drew kids from around the country and across the globe like a magnet. The famed Whiskey-A-Go-Go, which just prior to 1966 was hosting people like Johnny Rivers and audiences in suits and ties, was transformed into a forum for the new upcoming rock stars of tomorrow. The Strip was alive with thousands of fans of this new generation. We had long hair, wore outrageous clothes, promoted free love and lots of it, drank, and smoked pot and created general mayhem wherever we went. Girls wore skirts so short, if they even bent over slightly everything was exposed. Many chose to go bra-less and panty-less. It was one wild party scene after another, with daytime in between. One other point that should be made very clear was the fact that all of the groups got along as if we were one big extended family. It didn't matter if Sly & The Family Stone or The Doors was in the audience. They loved every minute of the music and excitement and appreciated each band for their uniqueness. We all supported each other. We all loved the fans and communicated and partied with them."
This is an original 1969 vinyl first pressing of this hard edged garagey blues-psych band, with lots of cool fuzz guitar and the underground-rock styles & flair that collectors look for & enjoy. Selections are: "Watch Your Step"; "Long Stemmed Eyes (John's Song)"; "Three Hundred Pounds Of Heavenly Joy"; "Something's Got Ahold On Me"; "Light In My Window"; "I Idolize You"; "Who's Been Talking?"; "Well Tuesday". Stereo on Bell records (6026) Jacket & vinyl appear overall Very Good!
---