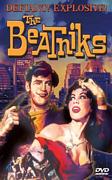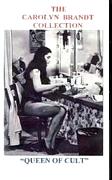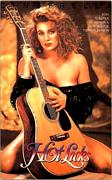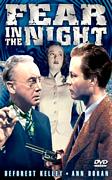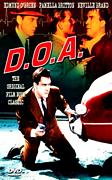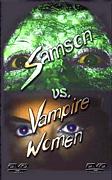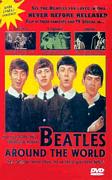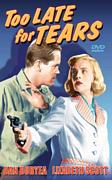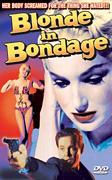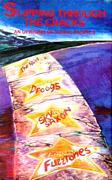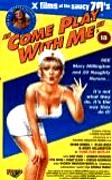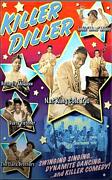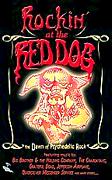 ALL TITLES ON THIS PAGE ARE IN NTSC FORMAT & COME IN ORIGINAL FACTORY PACKAGING WITH COMPLETE ORIGINAL ARTWORK. THERE ARE NO DUBS, DUPES OR COPYS LISTED HERE. MOST DVD'S ON THIS PAGE ARE REGION 0 AND WILL PLAY WORLDWIDE.
A
---
ABHIMAAN- Bollywood film centers on Subeer Kumar (Amitabh Bachchan) who is well on his way to becoming India's top pop singer. He falls in love with Uma (Jaya Bhaduri), by whose voice he's enchanted. He marries her & returns to Bombay where her popularity is soon greater than his & the seed of jealousy begins to grow. The difference between Uma & Subeer is that she sings for herself, whereas he sings for the public. The couple were also married in real life. Grerat score composed & arranged by S.D. Burman. In Hindi w/ English Subtitles. 122 minutes M $9
---
AUSTIN PROWLER- Send-off on the Austin Powers series w/ adult stars Byron Long; Envy; Candy Apples; Jeremy Steele; Rod Fontana; Nina Whett- Heatwave DVD M $5
B
---
BACK TO THE BEACH- Frankie & Annette update the Beach series. Guest stars include Bob Denver; Pee-Wee Herman; Jerry Mathers & Tony Dow; Connie Stevens; Dick Dale; others. Paramount VHS (ultra-stereo hi-fi) M- $5
---
BACKBEAT- Energetic drama surrounding the Beatles' rise to fame in Hamburg's club circuit, centers on "fifth Beatle" Stu Sutcliffe & his close relationship to John Lennon. Driven by art rather than music, Sutcliffe ultimately must choose between his true passion or his bass playing. Stars Ian Hart, Sheryl Lee, & Stephen Dorff. VHS M- $4
---
BARON BLOOD + LISA & THE DEVIL- 2 Uncut cult films by Mario Bava. Elite Entertainment 2-Set Laserdisc SS $25 Rare!
More Info
---
BEACH PARTY- This is the defining film that started the entire beach teen movie craze, & remains one of the better of the series. Anthrapologist Bob Cummings & his assistant Dorothy Malone study the sexual 'mating habits' of beach going teens Annette Funicello; Frankie Avalon; & others. Things heat up when Eva Six makes the scene. Also w/ Morey Amsterdam; John Ashley; Dick Dale & The Deltones. Warner Home Video (Clamshell) VHS M- $6
---
THE BEATLES IN TOKYO- Live Concert Saturday July 2, 1966 at Nippon Budokan Hall w/ white jackets. VHS M $12
---
THE BEATNIKS- An up-and-coming recording star must get away from his violent circle of criminal friends. Stars Tony Travis. Directed by Paul Frees (the voice of Boris Badenov) DVD M $6
More Info
---
BETTY BOOP- The World's First Female Superhero- (10 cartoons from The Famous Fleischer Studios, 1935-39. Grampy appears in two stories. Includes her final film, "Rhythm on the Reservation". Award winning restoration) DVD SS $5
---
BETTY BOOP- Her Wildest Adventures- (10 cartoons from The Famous Fleischer Studios, 1935-37, featuring her lovable pup, Pudgy. Award winning restoration) DVD SS $5
---
BIKINI BEACH- One of the better installments of the 'beach party' series where a grumpy newspaper publisher is trying to oust the kids from the beach while a hot new British recording star sets up headquarters on the same beach. This 1964 fun-fest stars Annette Funicello; Don Rickles; Frankie Avalon; Candy Johnson; Jodi McCrea; Harvey Lembeck; & many others, w/ musical sequences by Little Stevie Wonder & The Pyramids. Embassy VHS M- $5
---
BLONDE IN BONDAGE- An expose on sexuality & drugs in the carnival & cabaret scene in Sweden. Stars Anita Thallaug- DVD M $6
More Info
---
BOARDING HOUSE BLUES- Set in Harlem, this hilarious comedy follows the fortunes of Moms Mabley's boarding house for wannabe thespians. Problem is, everyone that resides there is broke, & Moms is veering dangerously close to losing her property. So a scheme to con a Broadway producer to stage a musical is cooked up, with hilarious results. DVD M $6
More Info
---
BODY FEVER- 1969 Ray Dennis Stecker film stars Carolyn Brandt, who is trapped by drugs & hounded by the mob in this Raymond Chandler type detective movie. Co-stars Ron Haydock. (78 minutes) VHS $9
---
BOOGIE VISION- Straight out of the silly 70s comes the tale of a filmmaker looking for his lucky break. He seizes the opportunity when he discovers his girlfriend's dad is a movie producer. Lots of campy comedy sketches, fake news reports, annimation & commercials in the 'Groove Tube' vein. Directed by James Byan (Don't Go In The Woods) Rare Flix DVD M $8
---
BOY! WHAT A GIRL- Madness & mayhem mix with jam sessions at a Harlem roof party where legendary drummer Gene Krupa performs a surprise drum solo. Famous black entertainers include Big Sid Catlett & his band; The Slam Stewart Trio; Deek Watson & The Brown Dots; & The International Jitterbugs. When the star can't go on, a producer puts on women's clothing & fills in. This 1945 all-black musical production stars Tim Moore, best known as George "Kingfish" Stevens, of the "Amos 'n' Andy" TV series. DVD 69 minutes M $6
C
---
COME PLAY WITH ME- British sex romp starring Mary Millington. Directed by famed cheesecake photographer George Harrison Marks. 1977 (90 minutes) VHS $20
More Info
D
---
THE DEFIANCE OF GOOD- Produced by Jason Russell, this is a stylish & realistic journey of one woman's erotic & true-to-life journey of sexual exploration. Kinky psychological adult film not for the squeamish or sensitive. This obscurity stars Jean Jennings (of Autobiography Of A Flea); Day Jason; Jamie Gillis; Heather Ellis (of Teenage Stepmother); Fred Lincoln (of Last House On The Left). Director Armand Weston later scored big w/ "The Nesting". Comes in a plain white box from Excalibur Films. (72 minutes) 1975 VHS M $18
---
DESPERATE LIVING- John Waters classic stars Edith Massey; Liz Renay; Mink Stole; Mary Vivian Pierce. 90 minutes. Cinema Group Home Video HiFi VHS M- $8
---
DETOUR- A nightmarish & hallucinatory tale of an innocent man drawn into murder & blackmail after being seduced by a femme fatale. Stars Ann Savage- DVD M $6
More Info
---
D.O.A. - A doomed man races against time to find out who poisoned him in this film noir classic- DVD M $6
More Info
---
DR. BLACK - MR. HYDE- The doctor's serum is not quite perfected... Stars Bernie Casey & Rosalind Cash- United (hard clam-shell) VHS EX+ $12
E - F
---
EAST OF BORNEO- 1931 Jungle Adventure has Rose Hobart searching the Congo for her husband. Features 18' serpants; tigers; smoking volcano, & wild percussive music. This deco-era film is also notable for having segments used by artist Joseph Cornell who combined it w/ some other scenes, & re-edited into a 19-minute surreal short that angered Dali, who claimed he had thought of doing it first!) 75 minutes DVD M $7
---
EERIE MIDNIGHT HORROR SHOW- 92 uncut minutes Directed by Mario Gariazzo 1977- Continental (big box) M- $33
---
THE FAST & THE FURIOUS- Roger Corman wrote the story for this high-octaine thriller starring John Ireland, who co-directed. Wrongly accused of murder, he breaks out of jail & goes on the run & hijacks Dorothy Malone in her Jaguar. They slip into a cross-border sports car race to try to make it to Mexico before the police get him. The 1st release for AIP Studios (B&W 1955 uncut) DVD M $5
---
FEAR IN THE NIGHT - A man suffers hallucinations of murder and mayhem. Stars DeForest Kelly & Ann Doran- DVD M $6
More Info
---
FLASHBACK- A visit to the sexual side of the sixties. Adult stars: Nikki Shane; Sunset, Monique, Brittany O'Connell. (big box) Sin City VHS M- $22
---
FLESH MERCHANT- aka The Wild & The Wicked- Sexploitation classic w/ Joy Renolds- DVD M $6
More Info
---
4 FEATURE FILMS: The Duke Is Tops (w/ Lena Horne film debut) / The Black King (w/ Johnny Lee (best remembered as Algonquin J. Calhoun the lawyer on TV's Amos 'N' Andy), who steals scenes as the 'Count of Zanzibar') / Spirit Of Youth (w/ world heavyweight boxing champ Joe Louis) / The Glove (w/ football great, Roosevelt Grier; Joan Blondell & comedian Jack Carter)- DVD (301 minutes) $6
G
---
GAS-S-S- A gas is accidentally released killing everyone over the age of 25. An unlikely couple escapes in a pink Edsel in search of a rumored hippie Utopia. They meet up w/ other couples & come across many strange situations. Country Joe & The Fish perform live on a golf course. There's a cool record store scene & LSD inspired visual effects. Stars Bob Corff, Elaine Giftos, Bud Cort, Cindy Williams, Ben Vereen, Talia Shire, others. Written by George Armitage. Produced & Directed by Roger Corman 1970 VHS M $12
---
GRANDPA'S SCI-FI HITS- (Al Lewis as his Munsters character Grandpa, hosts a wild collection of 28 original movie trailers & coming attractions) VHS M $9
H
---
HARLEM DOUBLE FEATURE: DIRTY GERTIE FROM HARLEM U.S.A- Gertie enlivens a sleepy Caribbean island resort w/ her sexy dance moves. Stars Francine Everett & Don Wilson. Directed by Spencer Williams, 1946. / SEPIA CINDERELLA- A beautiful but broken-hearted woman is the inspiration behind a huge hit. All black cast stars crooner Billy Daniels, Sheila Guyse & Freddie Bartholomew. 1947 DVD M $6
---
HARLEM DOUBLE FEATURE: GANG WAR- Rival gangsters fight a deadly battle on the streets of Harlem. / BROKEN STRINGS- A headstrong violinist's life is ruined after a serious accident renders him
partially paralyzed ( w/ Matthew "Stymie" Beard of the 'Our Gang' series) DVD M $6
More Info
---
HARLEM DOUBLE FEATURE: JIVIN' IN BE-BOP- Dizzy Gillespie, Helen Humes / BEWARE- Louis Jordan & His Tympany Five, Dimples Daniels. Both from 1946. DVD M $6
More Info
---
HARLEM DOUBLE FEATURE: JUKE JOINT- Two shabby but resourceful men come into town with big business ideas. Stars Spencer Williams, who also directed / REET, PETITE & GONE- Great musical revue by Louis Jordan & His Tympany Five, as they search for his bride-to-be. DVD M $7
More Info
---
HARLEM DOUBLE FEATURE: LOOK-OUT SISTER- Louis Jordan & his swing band The Tympany Five, pose as cowboys on a dude ranch. / BIG TIMERS- A poor girl's mother try to impress her daughter's wealthy suitor. Stars Stepin Fetchit. DVD M $7
More Info
---
HERCULES AGAINST THE MOON MEN- 1964 Italian/French sword & sandal film, directed by Giacomo Gentilomo. Stars Alan Steel (aka Sergio Ciani) & Jany Clair. Cult movie buffs will love the sequence when cast wanders around in a sandstorm for five minutes of screen time, in which no plot movement or character development is made at all. (87 minutes) VHS SS $7
---
HIGH TIMES' POTLUCK- Totally smokin' 2002 comedy film by High Times Magazine. Plot revolves around a mobster in Manhattan who discovers the magic of marijuana. A bizarre assortment of characters are drawn together, as various plots & sub-plots interweave, culminating in a showdown at a "Reefer Rally". w/ Sylvia Miles; Jason Mewes; Frank Adondis; Frank Gorshin; Tommy Chong; John 'The Jokeman' Martling, others. The film won the Audience Award for "Best Feature Film" at New York International Independent Film Festival, & "Best Comedy" at the Atlantic City Film Festival. DVD M $8
---
HORRIBLE HORROR- The ultimate party tape splices scenes from over 50 vintage horror & sci-fi classics into condensed mini-movie versions. They're so bad, they're good! Hosted by 'The Cool Ghoul' Zacherley) (110 minutes) VHS M- $9
---
HOW TO STUFF A WILD BIKINI- Annette Funicello; Bobbi Shaw; Frankie Avalon; Dwayne Hickman; Jody McCrea; Harvey Lembeck; Buster Keaton; Beverly Adams; & Mickey Rooney are just some of the stars of this wet & wild 1965 William Asher film about bikini-bulging bodacious babes mixing magic, mayhem & music in a non-stop shindig of romance & comedy. MGM Midnight Movie VHS M $6
I - J
---
SPIKE JONES- The Best Of Spike Jones Volumes One & Two- (compiles songs from his hit TV show, 1952-1957) Paramount (hi-fi) 2-VHS Set M- $12
---
JOHNNY THE GIANT KILLER- Johnny sets out to rid the land of an evil giant but the giant uses a machine to reduce Johnny to the size of a bee. A truly bizarre 1952 animated feature from France, incorporating Disney, Dali, Tex Avery & Hanna-Barbera into a crazy, frenetic adventure. VHS SS $10 Scarce!
K
---
KANSAS CITY CONFIDENTIAL - An innocent man is implicated in a bank robbery & seeks revenge on those who set him up. Stars Preston Foster & Lee Van Cleef- DVD M $6
More Info
---
KILLER DILLER- Swinging & singing w/ the Nat "King" Cole Trio; Jackie "Moms" Mabley; The Clark Brothers; Beverly White; Andy Kirk Orchestra & many more talented song, dance & comic performers, make 1948's Killer Diller a magical delight. A pre- "Apollo Theater" Vaudeville variety show featuring an all-black cast w/ Dusty Fletcher who shows off his masterful command of slapstick farce that made him one of the godfathers of black comedy. Butterfly McQueen is best known as 'Prissy' in the 1939 classic "Gone With The Wind". (1948 B&W - 72 minutes) DVD M $6
---
KILLERS FROM SPACE- Actually, these aliens save the life of nuclear scientist Peter Graves, but only to hyptonize him for info to help their planned invasion of Earth! 1954 (71 minutes) VHS $5
L
---
LADY GANGSTER- A beautiful woman is sent to prison for participating in a bank robbery. Stars Faye Emerson, Jackie Gleason- DVD M $6
More Info
---
LADY STREETFIGHTER- Exotic Eastern European beauty, Linda Allen (Renee Harmon of 'Frozen Scream') gets wrapped up in a world of intrigue when gangsters kill her sister who may be harboring a microfilm full of incriminating info. Kung fu, car chases, shootouts & weird parties ensue in this bizarre, forgotten actioner from director James Bryan ('Don't Go In The Woods'). Also appearing is legendary showgirl & gangster moll, Liz Renay (Desperate Living, The Thrill Killers). Also stars Jody McCrea; Trace Carradine & Tony Romano. (73 minutes) Rare Flix M $6
---
LET IT BE- The Beatles get mad at Paul because he grew a beard. 1970 (80 minutes) United Artists VHS M- $8
---
THE LONDON ROCK & ROLL SHOW- Wembley Stadium, August 5, 1972- (Previously unavailable epic concert w/ Bo Diddley; Jerry Lee Lewis; Bill Haley; Little Richard; Chuck Berry; The Houseshakers. 28 classic songs, beautifully filmed by director Peter Clifton) Legacy DVD SS $6
---
LSD - PSYCHEDELIC FREAKOUT- A Naked Hippy Orgy of Sights & Sounds from the Psychedelic 60s, as the Hallucination Generation frolic in a universe of sensual delights. Color & B&W footage from 1966-1970, the Age Of Aquarius!. 2 full hours $8
---
BELA LUGOSI- "White Zombie"; "The Ape Man"; "The Gorilla"- (Triple feature plus 1932 & 1950 Interviews w/ Bela Lugosi; "White Zombie" trailer; Popeye Cartoon; & "The Lonely Road" starring Gregory Peck from 'Tales Of Mystery & Suspese radio show March 21, 1946) Triton (NTSC Region Free) SS $5
M
---
THE MAN WHO KNEW TOO MUCH- (Alfred Hitchcock classic w/ Peter Lorre) VHS SS $3
---
JAYNE MANSFIELD- "Too Hot To Handle" & "The Fat Spy"- (2 Jayne Mansfield movies on 2 VHS tapes in deluxe slipcase) M- $5
---
METROPOLIS- Classic 1927 futeristic fantasy by Fritz Lang depicts mechanized society in the early 21st Century. B&W (94 minutes) VHS M $5
---
MODESTY BLAISE- Nothing can faze Modesty Blase, the world's deadliest & mosty dazzling female agent. Pop-art spy action advenure w/ Monica Vitti; Terrance Stamp, & Dirk Bogarde. VHS (w/ b&w cover art. no labels) M $5
---
MR. LUCKY- Television Classics- (5-VHS Box set w/ 10 episodes of Mr. Lucky, created by Blake Edwards w/ music by Henry Mancini) Diamond Entertainment VHS M $28
More Info
N - O
---
NANCY DREW... REPORTER- Bonita Granville stars as ace sleuth Nancy Drew, hot on the trail of a major scoop while working as a schoolgirl reporter for the local newspaper. DVD M $6
---
NIGHTBEAST- A Troma hit w/ beastly introduction by Lloyd Kaufman; Commentary by director Don Dohler; Behind the scenes outtakes & bloopers; Troma PSA "Radiation March"; Original 1980's trailers; Bonus footage: "How To Rip Off An Arm" from the "Make Your Own Damn Movie" box set; More. (90 minutes) DVD M $6
P - Q
---
POLYESTER- John Waters classic stars Divine; Tab Hunter; Edith Massey; Mink Stole; w/ cameo by Stiv Bators of The Dead Boys. 86 minutes. Hard-box. HiFi VHS Thorn EMI M $10
---
POPEYE THE SAILOR- Fleischer 'Thimble Theater' animation w/ "Aladdin & His Wonderful Lamp"; & "Popeye Meets Ali Baba's 40 Thieves". Also includes cartoons: "Boy Meets Dog" & "The Wabbit Who Came To Supper" w/ Bugs Bunny- 2-VHS Set SS $6
---
PSYCHO CIRCUS- (The costumed rock group Kiss stars in this 1998 Promo Only video CD titled "Psycho Circus", running 5:30. Also included is the song "In Your Face" w/ lead vocals by Ace. This one pictures Gene Simmons on the disc) Mercury (MECP-449) PROMO ONLY VCD M- $8
R
---
THE RED HOUSE- An isolated farm hosts a family with secrets about the red house deep in the wooded area of their property. Film-noir motifs & breathtaking drama surround the masterful acting skills of Edward G. Robinson; Julie London; Lon McCallister; Rory Calhoun; & others in this chilling 1947 B&W horror. (100 minutes) DVD M $5
---
ROCK REVOLUTION- (DEJ Music Productions Presents Live songs in concert by The Clash; Sex Pistols; Ian Dury; The Jam; Talking Heads; Ramones; Hello Sailor; Lena Lovich; Graham Parker) RSVP VHS SS $12
---
ROCK, ROCK, ROCK- 13 year-old Tuesday Weld, in her 1956 film debut, must raise money to buy a dress for the Rock & Roll Dance at school. w/ radio personality Alan Freed as himself; Chuck Berry; LaVerne Baker; Flamingos; Moonglows; Frankie Lymon & The Teenagers; Teddy Randazzo. Connie Stevens is singing voice for Tuesday Weld. (BONUS: TV Episode of The Adventures Of Ozzie & Harriet "Rick Gets Even" from December 16, 1959 w/ guest star Tuesday Weld) 111 minutes total DVD M $5
S
---
SHERLOCK HOLMES CLASSICS- Triple feature w/ "A Study In Scarlet" (The first of many Sherlock Holmes mysteries, this tale finds the famous investigator (Reginald Owen) solving the murder of a tourist aboard a train); "Dressed To Kill" (Super sleuth Sherlock Holmes (Basil Rathbone) investigates the deaths of two random individuals found murdered after purchasing identical music boxes from an auction house in London); "Murder At The Baskervilles" (In this early Holmes mystery, the intrepid detective (Arthur Wontner) investigates the theft of a racehorse, 'The Silver Blaze') M $3
---
SHOCK- A psychiatrist drives a woman insane after she has witnessed a murder he has
committed. Stars Vincent Price, Lynn Bari- DVD M $6
More Info
---
SUPERMAN- Fleischer animation w/ "Gold Rush Daze"; "Flop Goes The Weasel"; "Mechanical Monsters"; "The Mad Scientist"; "The Mummy Strikes"; "Pigs In A Polka";"Magnetic Telescope". 2-VHS Set SS $7
---
SWING- Mandy Jenkins (Cora Green) leaves Alabama for Harlem, where she lands a seamstress job with a financially troubled musical. When the star of the show, hard-drinking Eloise Jackson (Hazel Diaz), accidentally breaks her leg in a fall, desperate producer Ted Gregory (Carman Newsome) turns to Mandy for help. The talented girl saves the day, & the show heads for Broadway. w/ Dorothy Van Engle; Doli Armena; Alec Lovejoy; Trixie Smith; The Tyler Twins, others. Produced, Written & Directed by Oscar Micheaux. (B&W 1938) DVD M $8
T
---
TALES FROM THE DARKSIDE- 3 frightening stories: "Mookie & Pookie" w/ Tippi Hedren; "It'll All Come Out In The Wash" w/ Vince Edwards; "Levitation" w/ Joseph Turkle. (70 minutes total) Thriller Video (big box) VHS M- $33
---
TALES OF THE RAT FINK- (Canadian documentary filmmaker Ron Mann ("Comic Book Confidential", "Grass") captures the legend of Ed "Big Daddy" Roth, the Beat-era custom-car designer & graphic artist whose hotrod creations & irreverent cartoon characters (especially his anti-Mickey Mouse, Rat Fink) made him a 1950s & '60s counter-culture icon. In the 1950s Ed Roth was a hot-rodder who moved from body work to building unique custom machines. He threw out the rule book of conventional automotive design, becoming the world's greatest custom car builder in the process. Lively original animation & cool-daddy-o narration by John Goodman; set to a punky soundtrack by garage-rock band the Sadies. The vocal talents of Ann-Margret, Jay Leno, Brian Wilson, Tom Wolfe, Matt Groening, Robert Williams, "Stone Cold" Steve Austin, Paul Le Mat, & The Smothers Brothers all provide the voices of Roth's actual cars. Includes a rare interview w/ the 'outlaw artist' Roth himself, as well as a painting jam w/ Von Dutch; Big Daddy's Garage; virtual art gallery; more) Shout DVD SS $18
---
TERROR IN THE HAUNTED HOUSE- (original 90 minute 'Psychorama' version, restored by Johnny Legend) Rhino VHS M- $12
---
A THOUSAND PLEASURES- B&W Michael & Roberta Findlay film, shot in 1968 NYC delivers the sleaze. Said to be the inspiration for John Waters' bad-taste masterpiece "Pink Flamingos". (70 minutes of insanity!) SWV VHS M $7
---
THE THREE STOOGES- The Making Of The Three Stooges- (Complete 50-year story of the kings of slapstick comedy, narrated by Steve Allen) VHS M- $6
---
THE THREE STOOGES- The Lost Stooges- (their rarest screen moments, narrated by Leonard Maltin) Turner Home Entertainment VHS (hi-fi Mono) M- $8
---
THE THREE STOOGES- Comedy Classics- (4 shorts featuring Moe, Larry, Curley & Shemp, plus "Hollywood On Parade" w/ Ted Healy) Spotlite VHS M- $4
---
THE THREE STOOGES- Volume VI- (3 hilarious shorts) RCA / Columbia VHS M- $3
---
THUNDER ALLEY- Revved up 1967 sex romp starring Annette Funicello & Fabian Forte w/ Diane McBain & Jan Murray in a high-octaine blend of romance & racing, with plenty of dangerous curves from the track tramps who offer full-thottle reckless abandon! MGM Midnight Movie VHS SS $7
---
TOO HOT TO HANDLE- Jayne Mansfield's practically transparent gown & bodacious figure immortalized this film, where she portrays a singer in a seamy nightclub populated by bad guys like Christopher Lee. 1960 101 minutes VHS Still Sealed $4
---
TOO HOT TO HANDLE / THE FAT SPY- Jayne Mansfield 2-VHS Set includes the B&W 1960 potboiler w/ Christopher Lee, plus The Fat Spy in color, where 1965 beach teens dance around Jack E. Leonard; Phyllis Diller; Brian Donlevy; Johnny Tillotson. The Wild Ones Penny Roman & Jordan Christopher appear. 2-VHS M- $7
---
TOO LATE FOR TEARS- A greedy woman finds a fortune in stolen loot & tries to hide it from her husband. Stars Lizabeth Scott, Arthur Kennedy, Dan Duryea- DVD M $6
More Info
U - V - W
---
VILLAGE OF THE DAMNED- Psychic children terrorize a peaceful hamlet. Stars George Saunders, Barbara Shelly- MGM/UA VHS EX $8
X - Y - Z
---
Check back for updates...